Informing your decisions from a sustainable development perspective
Life cycle analysis or LCA is an internationally recognised method for quantifying several environmental impacts of a product, service or process (toxicity, biodiversity, consumption of natural resources, etc.), regardless of the organisation's activity or size, from the extraction of resources through to end of life.
LCA, a tool for decision making, performance improvement and change management in an organisation.
Life Cycle Assessment according to Scalian
The benefits of LCA
Often the starting point of an environmental approach, life cycle analysis is a tool for decision support, performance improvement and change management in a company.
Its scientific, focused approach makes it possible to define and precisely quantify objectives. The analysis results can then be used by the company to identify new strategic themes and implement action plans throughout its entire value chain.
Once the studies have been carried out, this may result in the redesign of products or services, eco-design to follow a more environmentally friendly approach, or eco-innovation to create a competitive advantage and/or optimise the company's economic and environmental performance.
As it is based on validated data, LCA can also be a compelling tool for communication to the company's stakeholders. Internally, it can be used to support change management (management bodies, teams concerned, etc.). Externally, it gives a positive overall view of environmental impact to the organisation's clients and suppliers.
Our approach
To help you see things more clearly, our approach can take the form of a tailor-made intervention at your side. In line with your needs and goals, which will be quantified during a full environmental assessment, we help you define the scope to be analysed, carry out the study and draw up the summary report.
But we can go even further: using the study as a starting point, we can support you over the long term in exploiting the results, defining your environmental strategy and implementing its rollout: eco-design project, redesign, eco-innovation, creation of tools, communication materials, etc.
An experienced CSR and HSE team
We have a multidisciplinary team of consultants with more than 10 years of experience, able to support you throughout the process.  We have a track record of conducting life cycle analyses for both large-scale projects for major industry players and projects tailored to SMEs.
Besides our expertise in software such as GaBi and SimaPro, the team boasts a complementary set of skills in CSR, project management, audit and impact assessment, which enables us to adopt a comprehensive approach to project management.
Lastly, taking advantage of the resources offered by the entire Scalian Group, we can provide support for our clients that goes beyond the study results:
Training
Communication: creation of media, etc.
Support extended to include change management
Development of digital solutions: creation of personalised tools to empower the client
Enrichment of study results through foresight actions and research by our Innovation Lab on subjects such as monetisation, planetary limits, resource criticality, etc.
The method
To define our area of intervention, it is important to start with a needs analysis to understand our clients' expectations and challenges in terms of goals and use of results.
What is the organisation's problem? What does it seek to address? What type of study needs to be conducted: comparing two technologies, different processes, assessing the impact of a tangible service compared to a digitised one, auditing the entire value chain? This questioning phase is a key step in defining the precise scope of the study and estimating the project's duration and cost.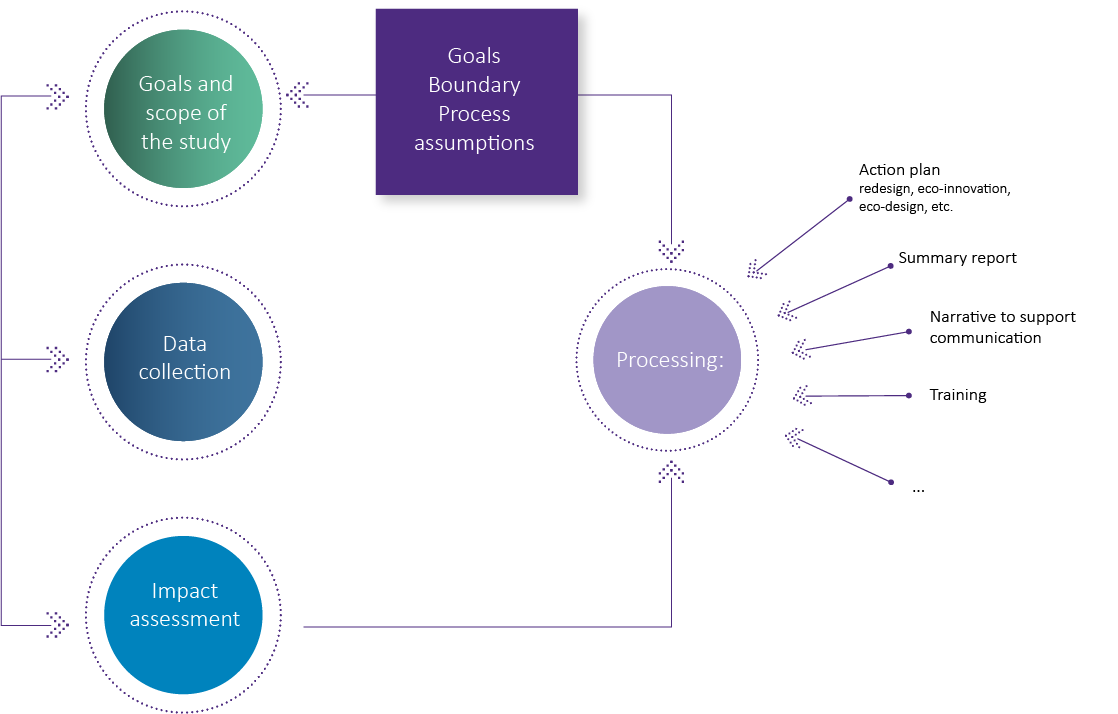 Based on an iterative mode, the LCA may cover an extended or redefined scope, which may be justified by new data or greater maturity on certain subjects, for example. These changes should always be clearly explained in order to readjust the study.
Unleash your potential
with Scalian
Join passionate men and women.
Develop yourself in an organisation where professionalism and entrepreneurship go hand in hand with kindness and caring.