Exploring, inspiring: triggering transformation
Our sustained R&D activity gives us very precise knowledge on the trends and challenges they face. But our mission goes further: to inspire our clients to undertake profound transformation.
Our goal is to support our teams and clients in their future businesses and roles.
R&D and Innovation according to Scalian
Our approach
We aim to anticipate and tackle our clients' future challenges. The collective dimension is therefore essential, and we follow a co-innovation approach. We set up joint innovation and/or R&D laboratories: "incubators" where resources are made available on both sides (doctors, engineers, data, collaborative platform, etc.).
Our clients also seek our support for their projects by subcontracting their R&D to us. As Scalian has been approved for research and innovation tax credits (CIR and CII) by the Ministry of Higher Education, Research and Innovation, our clients can also benefit and reduce the financial impact of their own R&D or innovation activities.
Our employees can develop their careers through the R&D structure of the Scalian Innovation Lab. Completing a state-of-the-art review, contributing directly to studies or conducting an experiment as part of a client assignment are all ways of maintaining cutting-edge knowledge and ensuring that our employees assimilate new digital, organisational and methodological drivers.
Research themes
Our research topics correspond to our clients' business lines and concern the following areas:
Agility and resilience:
recommend a global management approach, anticipating events and increasing the company's resilience.
Enhanced performance:
increase decision-making, automate low-value-added tasks and change the way we work together in order to improve effectiveness and efficiency.
Sustainable and societal innovation:
set in motion and optimise the energy transition, join in the circular economy, set yourselves apart through end-to-end eco-design approaches.
Effectiveness and responsiveness in crisis management:
anticipate and prevent threats and risks, through a global approach combining business continuity and decision-making in emergency situations, in order to shorten the time needed to return to a nominal situation.
Human-Environment interfaces:
optimise human activities in an environmentally constrained context.
Adaptability and optimisation of health systems:
customise and target digital solutions.
Innovative mobility:
new practices based on mobility of goods and people, including its possible reduction.
Safety and security:
dependability and security of digital systems; consideration of human factors.
The Innovation Lab
A permanent, multidisciplinary team specialised in the emergence of new uses, through to prototyping and field testing.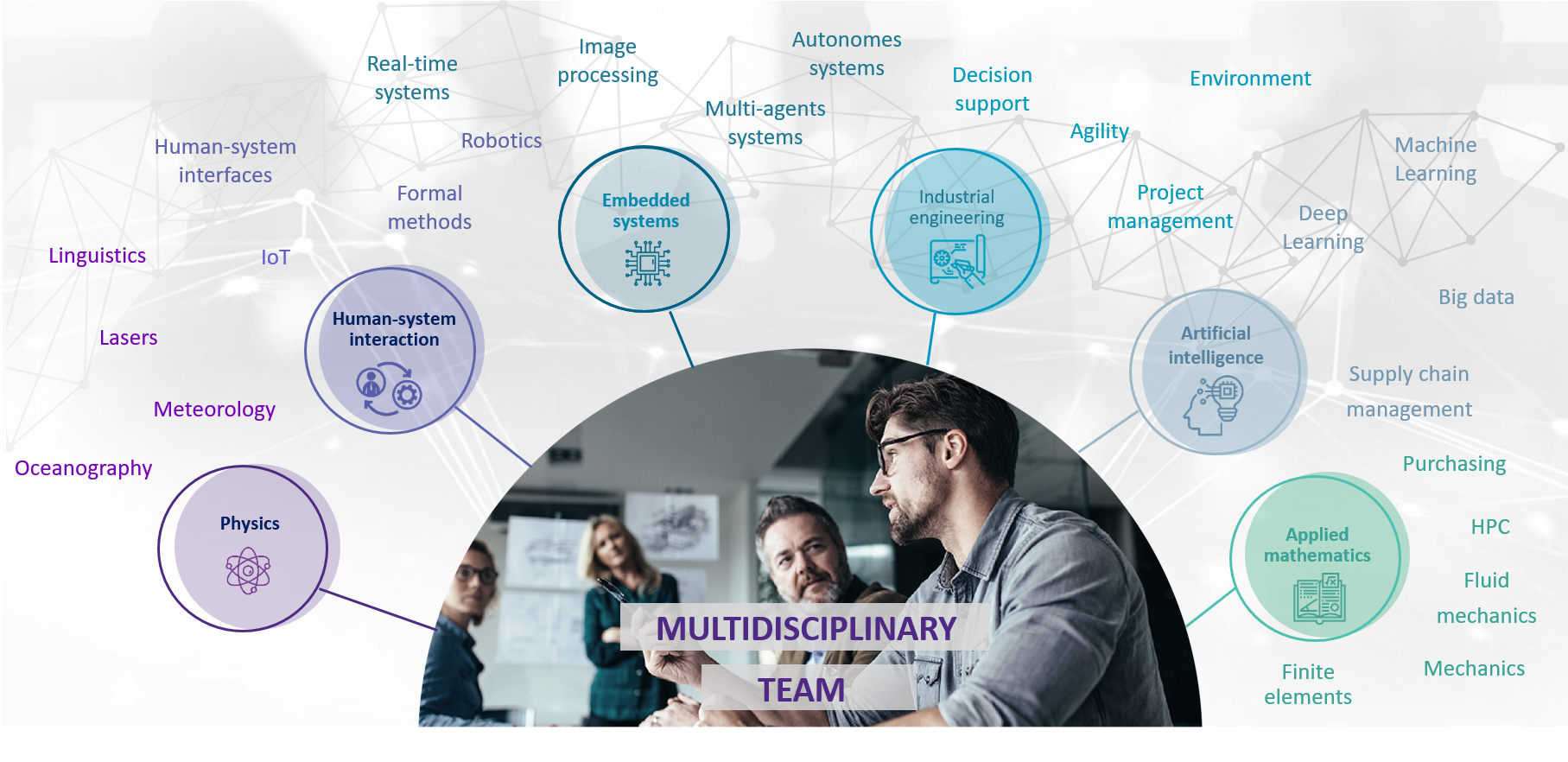 R&D and Innovation ecosystem
Industrial partners:
OCTOPUS – "Augmented operators for Industry 4.0":
Inter-ministerial single fund with LudoTIC, EDF, Parade,

CEA, IMS – ENSC BORDEAUX INP,

 

I3S/CNRS

FIVER – "Innovative solution for validating FMS computed trajectories by means of pilot action emulation, comparison with PANS-OPS criteria and data-mining techniques":

H2020 Clean Sky 2 avec CGX

 

Aero

COMP4DRONE

–

« Framework of key 

enabling

 technologies for 

safe

 and 

autonomous

 drones' applications' »

:

H2020 ECSEL avec INDRA, ENAC, SIEMENS, ENSMA, THALES, CEA, TOTAL, …

 
HEALTHKER – "Modelling the city and its inhabitants to better understand how mobility affects air quality": Brittany Region ERDF with University of Rennes 1, EEGLE
Contact our experts to find out more
Our specialists are available to discuss your business needs and the ways in which we can work together to unleash your potential.
Unleash your potential
with Scalian
Join passionate men and women.
Develop yourself in an organisation where professionalism and entrepreneurship go hand in hand with kindness and caring.