This year again, the Scalian will be present at Laval Virtual, represented by its Centre of Excellence for Simulation & Mixed Reality. On the occasion of the 25th edition, the exhibited achievements will address 3 application domains: Learn & Share – Acquire, Process, Display – Simulation & Data Enhancement.
For each of these areas, visitors will be able to discover, among other things, a tool designed for training, another that literally 'scans' buildings and a simulation for the defence sector.
Learn & Share
CLASS is a tool designed for training institutes. It is an application that facilitates communication between students and teachers by making learning fun, immersive, and above all, collaborative. In fact, capturing the attention of students has become one of the major challenges of modern education.
The objective is to bring more concreteness into theoretical courses by using augmented reality, allowing students to visualize complex objects in a shared view. For example, a motorcycle in a mechanics class, or human body organs for medical students.
The teacher can thus gradually present more and more advanced concepts through exploded views and animations of these objects. Each sub-part of these objects can be manipulated, annotated, and separated according to various perspectives. All of these interactions thus allow the game to be put back at the heart of teaching.
Expert's note
"As engineers, we find this project exciting, as it has allowed us to design, architect the tool we would have loved to use when we were students."
Nicolas BELLOT, Senior Developper in 3D & AR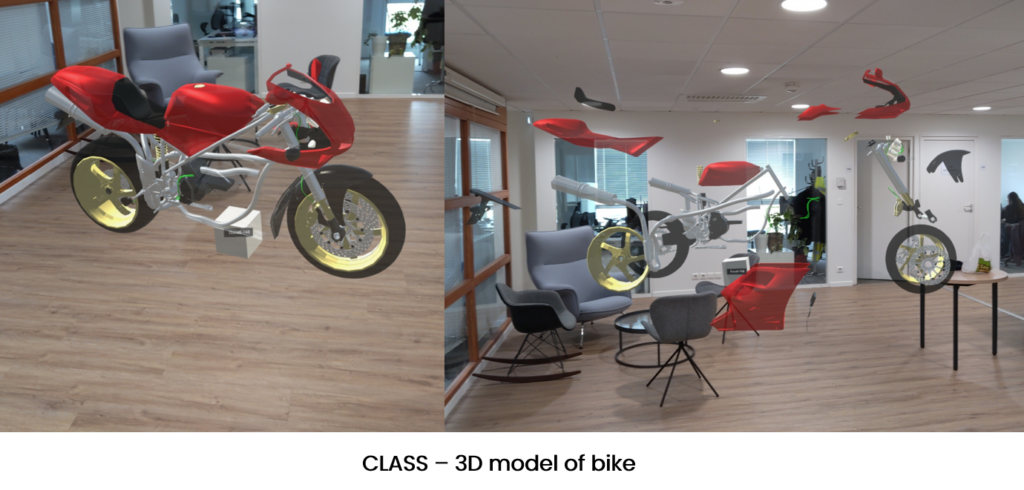 Acquire, Process, Display
EasyBIM is a building scan solution that can be used on the latest IPhone and IPad. Thanks to the precision of the LiDAR sensor and AI-powered recognition of various features, EasyBIM provides an accurate scan and detects different elements such as walls, doors or windows.
The process of scanning a room takes an average of 3 to 4 minutes and will provide the user with an accurate 2D plan and a simplified 3D model. The 2D plan is fully adjustable and adjustable with the help of an ergonomic editor allowing to recreate with realism the plan of your home. The application will also allow, thanks to a time management of the data and the addition of comments/photos, to easily carry out inventories.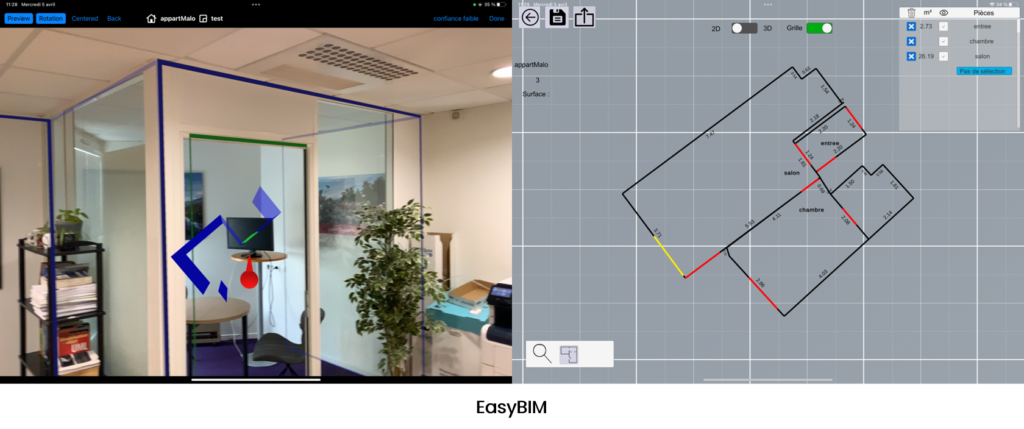 In addition, the data from the scan and the arrangement made by the user can be shared easily. Indeed, EasyBIM can export the home in file formats used in BIM (Building Information Modeling) such as DXF (2D) and FBX (3D).
Expert's note
"This project has been put together brick by brick with a lot of research. Before arriving at this almost finished solution, several paths were explored and tested. Moreover, one quickly realises the scope of such a project, one can easily imagine that the product will be useful for many actors in the building industry whether it is for architects, craftsmen or real estate agencies."
Malo LE ROUX, R&D Engineer, Lead Tech AR
In addition, Scalian has also developed the OPAIR solution for "Territoire d'énergie Mayenne", which allows underground infrastructures to be visualised using an augmented reality solution. This solution will enable more accurate preparation of work on the grids, while ensuring greater reliability and better safety for those involved.
Simulation et Data Enhancement
The Centre of Excellence for Simulation and Mixed Reality will also present SITAC, a decision support tool for the DGA. SITAC (for SItuation TACtique) is a simulation visualisation application developed by Scalian for the DGA. It allows to display the state of a simulation scenario, at any time, as well as its associated results.
The application is developed on the 3D Unity engine, in order to allow compatibility with a mixed reality view, in addition to the PC application.

Expert's note
"Displaying complex, geo-referenced, multi-trade information in an ergonomic and efficient way is a particularly ambitious problem. Indeed, the visualisation of different types of information on a globe, with precision and at different scales is a major technical challenge. It is also a need that can be transposed to various sectors of activity, such as space, transport and telecommunications."
Antoine FRABOUL, Developper , Lead Tech 3D – Kelig PERIGAULT, Lead Tech

Have we piqued your curiosity?
Come and visit us from 12 to 14 April 2023 on stand A23 to find out more about all these achievements and meet our experts!
---
The Simulation/Virtual Reality/High Performance Computing Centre of Excellence
Located in Rennes, France, the Centre of Excellence consists of a team of 50 people, including development engineers, PhDs in physics and engineers with dual skills in computing and physical or scientific modelling. Over the years, the Centre of Excellence has developed technological building blocks (simulation tools) that allow clients to produce synthetic data for their applications. The Centre of Excellence has also invested resources in artificial intelligence, notably in partnership with the Scalian Innovation Lab.
augmented reality
Laval Virtual
mixed reality
simulation
virtual reality