SCALIAN, a major player in management consulting, digital systems and digital transformation, with more than 5,500 employees worldwide and nearly 520 million euros in revenue as of June 2023, continues its development with the support of a new main shareholder.
On 27 July 2023, Scalian announced that the investment company Wendel had acquired a majority stake in its capital, after obtaining confirmation of all the necessary regulatory approvals.
Wendel is an investment company listed on Euronext Paris, which supports large companies that have become leaders in their sectors. With its strong entrepreneurial spirit, long-standing industrial reach and acknowledged CSR performance, Wendel has everything it takes to provide structured support for Scalian's strategic acceleration up to 2028.
Since 2019, with the arrival of COBEPA – ANDERA, thousands of new jobs have been created along with seven acquisitions by the Group in France and abroad, which accounted for half of its average annual growth rate (more than 28% over this period, in spite of the Covid pandemic), ranking the Group among the best performers in its sector.
Scalian's strategic plan for the period up to 2028 aims to achieve revenue of €1.5 billion, by gaining a critical mass in the main European countries and a solid North American platform. This plan aims to continue developing the core business combining Management Consulting and Digital Technologies through (i) the enhancement of Scalian's innovative technological solutions (Data, AI, Drones, Simulation, etc.), (ii) the integration of today's major societal challenges (CSR, etc.) and (iii) the support of its best shore platforms (India, Morocco, etc.). The goal is to provide efficient, global solutions to meet its clients' major manufacturing challenges.
"We believe that Scalian has the best assets to sustain its growth. The Scalian project now has a new, highly reputable partner in Wendel, which has the experience and resources needed to accelerate our development, along with the renewed support of ICG for financing. The relevance of our positioning strategy, combining consultancy, the management of industrial operations and digital technologies, enables us to lead complex projects requiring business expertise and digital leverage, in all markets, which is what our clients need. With our characteristic energy and confidence in our ability, I am convinced that the combined talents of Wendel's teams and those of Scalian will enable us to surpass our ambition of making Scalian a key global player within the next 5 years," said Yvan Chabanne, the Group's CEO.
Laurent Mignon, CEO of Wendel's Supervisory Board, said: "We are delighted to welcome a company of Scalian's standing, and to support it in this new phase of its history, alongside talented teams. Wendel will be an active partner for Scalian, contributing its acknowledged expertise in the development of global leaders in business services, both through organic and external growth.
We share Yvan Chabanne's ambition to achieve the company's full potential for value creation, in Europe and North America, and to make it a leader in its sector. Furthermore, Scalian's highly entrepreneurial culture supported by its 5,500 employees, as well as its acknowledged CSR performance, are totally in line with Wendel's values".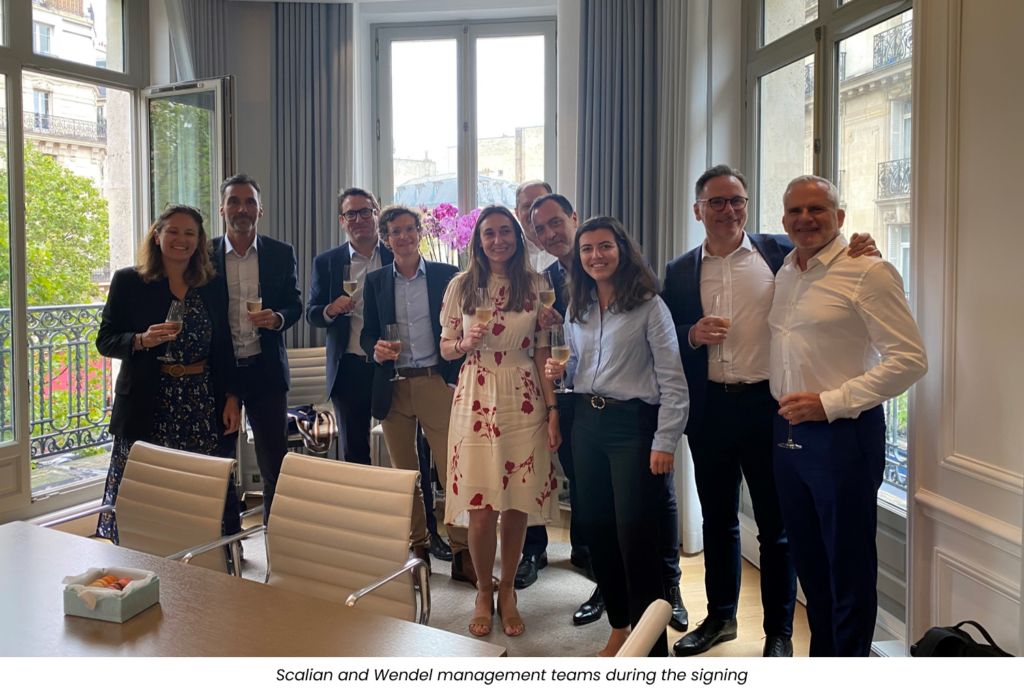 About WENDEL
Wendel is one of Europe's leading listed investment companies. It invests in Europe and North America in companies that are leaders in their respective sectors: ACAMS, Bureau Veritas, Constantia Flexibles, Crisis Prevention Institute, IHS Towers, Scalian, Stahl and Tarkett. It often plays an active role as a majority or influential shareholder in the companies in its portfolio. It seeks to implement long-term development strategies that involve boosting the growth and profitability of companies in order to increase their leadership positions. Through Wendel Growth (formerly Wendel Lab), Wendel also invests via funds or directly in innovative, high-growth companies. Wendel is listed on the Euronext Paris Eurolist. Standard & Poor's rating: long term: BBB with stable outlook – short term:
A-2 since 25 January 2019. Moody's rating: long term: Baa2 with stable outlook since 5 September 2018.
Wendel is the Founding Sponsor of the Centre Pompidou-Metz. In recognition of its long-standing commitment to culture, Wendel was awarded the title of Grand Mécène de la Culture in 2012.
For more information: wendelgroup.com
Follow us on LinkedIn @Wendel
---
Press Contacts – LA SUITE AND CO Agency
Omar Tazi omar.tazi@lasuiteandco.com | +33 (0)6 35 36 74 80
Perrine Soymié: perrine.soymie@lasuiteandco.com | +33 (0)6 45 33 72 18